About Barkada
Barkada is a group of people whose aim is to promote recognition and better understanding of the Pilipino culture at the California State Polytechnic University of Pomona Campus and the surrounding community.
We intend to achieve our aim through: (1) Promoting the Pilipino Culture through various media (2) Social interaction among members, the campus community, other educational institutions, and the community at large (3) The encouragement of achievement in academics (4) Athletic participation in the Cal Poly campus and wherever the challenge arises (5) Exchanges of ideas with people of all national backgrounds
Academics

Culture

Athletics

Social
Latest news
Join us this Saturday, September 19th at Huntington Beach, Tower 13, city side. There will be two waves of carpools that will meet at 9:30AM and 11AM at one of our Executive Board Members house at 13 Silverwood Lane, Pomona. It's all free. Carpools, food, and entertainment will be provided.It's a great way to meet new people
[…]
The 2015-2016 Barkada Executive Board has returned from their retreat at Lake Arrowhead. Thirteen different people came together to form one team. Get Ready Barkada, this year is going to be exciting.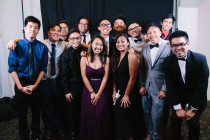 President: Warjay Naigan Vice President: Pia Radaza-Sumalinog Treasurer: Kevin Yang Secretary: Jeron Torres Academics Chair: Daniel Rogel Culture Chair: Miriya Gutierrez Athletic Chair: Gilbert Rose Social Chair: William Hua ASI MCC Representative: Renz Soriano Barkada Entertainment Coordinator: Michael Belicano Public Relations: Brandon Busante External: John Cordero Historian: Aaron Lucela
Previous
Next